Here are some tips on how to choose strong, healthy dragon fruit cuttings: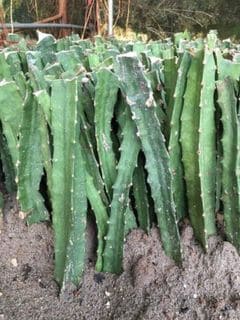 Length about 12-31 inches / 30-80 cm
Age from 6-24 months
Appearance green, strong, no disease
Nodes looking good for good sprouting rate
When selecting dragon fruit cuttings, look for those about 6-24 months old. These have grown up quite a bit & have had a good amount of 'meat & muscles' inside to do okay & propagate on their own. Transplant shock may affect them less than the younger branches.
Look for green, healthy branches with thorns or the bumps (nodes) looking nice & strong. They feel firm to the touch. The length of the cuttings depends on your trellis design & the branch's age. This one is a good firm branch: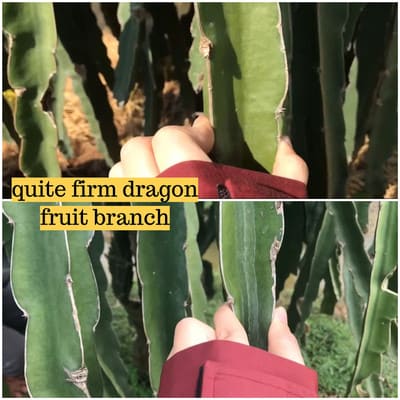 This other one is a bit soft & dry: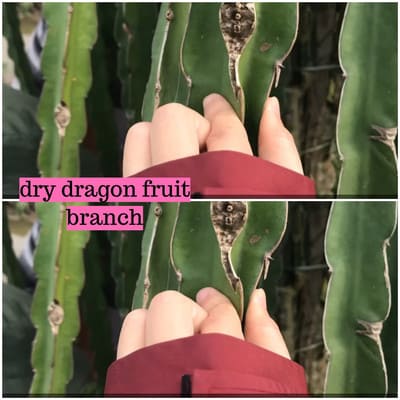 Usually, growers pick cuttings from around 12 inches (30 centimeters) up to 31 inches (80 centimeters). If the cuttings have roots already, then flowering & fruit time may be reduced to around 8 months.
Now just for fun, let's choose the best branch out of the four: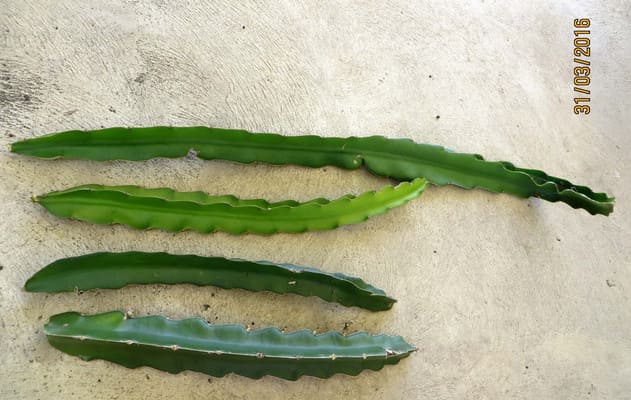 Now we will begin the selection:
In the picture above, from the top down, we can see the first branch has good length. But based on its color, we guess it may be too young.
The second branch is too young & may be it is the youngest of all. You can tell from its light green color.
The third one is probably older than the 1st & 2nd but it is quite skinny. The last branch, although quite short, has good plumb to it. It's thick, has a good green color & is probably at a good age.
So from our observation, Miss Dragon Fruit Universe goes to: The Last Branch! Out of these four, it can be our best selection.
Tip: When choosing, look for a good aged branch that is juicy, feels firm & has a good weight to it when held on your hand. A 1-year-old plant usually has branches about 28 in. (73 cm) on average. An older 2-year-old plant on average is 32 in. (82 cm) long. You can see some of their growth here:
| Age | Average | Longest | Shortest |
| --- | --- | --- | --- |
| 1 | 73cm / 28in | 119cm / 46in | 42cm / 16.5in |
| | | | |
| 2 | 82cm / 32in | 140cm / 55in | 52cm / 20in |
| | | | |
| 3 | 98cm / 38in | 180cm / 70in | 49cm / 19in |
| | | | |
| 4 | 108cm / 42in | 160cm / 63in | 45cm / 18in |
| | | | |
| 5 | 103cm / 40in | 140cm / 55in | 53cm / 21in |
How Can We Tell Which Dragon Fruit Branch Is Older?
To tell the older/younger branch, you can look at:
The size of the core
The sub branches
The color of the branch
We can compare these two branches of the same Red H14 variety as an example: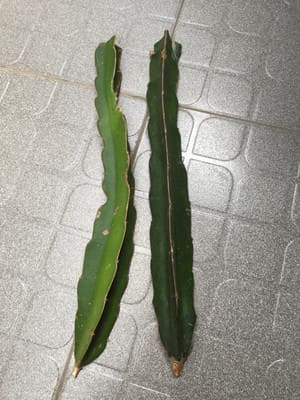 In box 1 in the pic below, the branch on the right has a much bigger core than the left one. It's even a bit harder and somewhat more woody.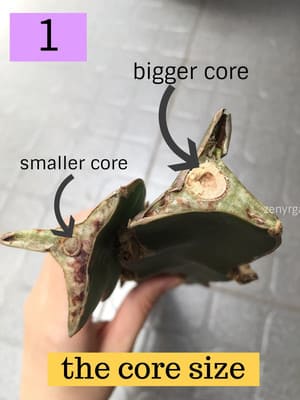 In box 2, the right branch has some remaining of the sub-branches. These may be where the branch has shot out flowers and fruits. They are also quite woody.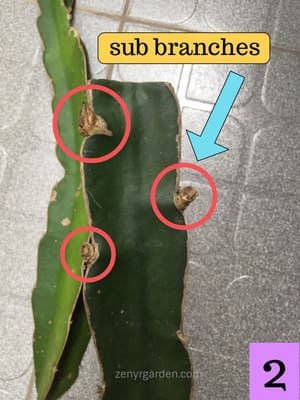 From these two hints, and also as the right branch also has a darker green skin to it, as you may have guessed correctly: the right branch is the older branch.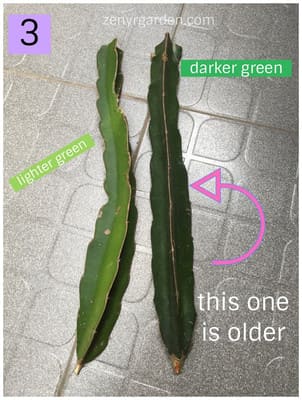 Responses to Readers' Questions
Française
--> Hi, thanks for your question. I will try to translate into French. Best I can do now is Google Translate. Hope it does a good job.
Comment choisir des boutures de fruit du dragon:
Longueur environ 30-80 centimètres
Âge de 6 à 24 mois
Apparence verte, forte, pas de maladie
Les nœuds semblent bons pour un bon taux de germination
Pas sec, solidifier, bon poids
Quelle branche de fruit du dragon est la plus ancienne?
la taille du noyau (plus âgée = plus gros)
les sous branches (plus âgée = avoir des sous-branches)
la couleur de la branche (plus âgée = vert plus foncé)
Share or pin this post!
(to be created)