Cutting a dragon fruit in half is one of the fastest ways for self-enjoyment or BRIX sweetness tasting. You can also cut it in wedges, round slices or square cubes. One may be better suited for one purpose or the tools available. It doesn't have to be rocket science. Just keep it simple & let's have some fun cracking open some dragon fruits!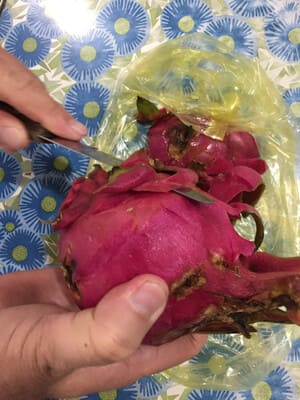 #1. For self-enjoyment or BRIX testing
The fastest way to cut a dragon fruit either for self-enjoyment for to test the BRIX score is cutting it in half.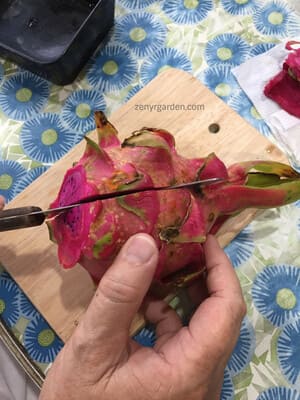 You don't have to use a cutting board. It provides some additional grip. If the fruit is big, you can hold onto one side of it as anchor.
If the fruit is small, you can hold onto the top with the knife underneath your hand. Use your dominant hand to rock the knife back and forth and slide it through all the way down.
And the result is some yummy dragon fruit ready for enjoying:
Use a spoon to scoop the flesh out like ice cream. Or peel the skin off and bite into it. For BRIX sugar testing, smash the flesh slightly with a spoon & scoop the juice out to measure the sweetness.
If you're serving guests, you can cut it into smaller wedges:
#2. For serving guests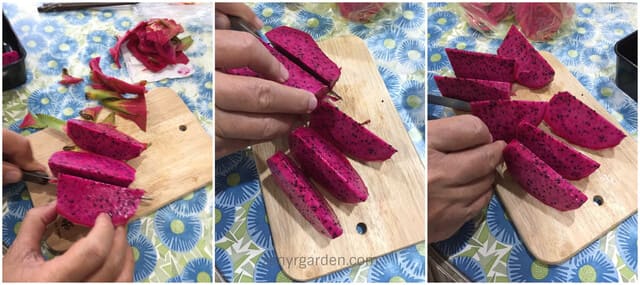 From the two halves you just cut, just keep cutting in half, in thirds or in fourths. You'll get these nice wedges for sharing with your friends or family.
#3. For dehydrating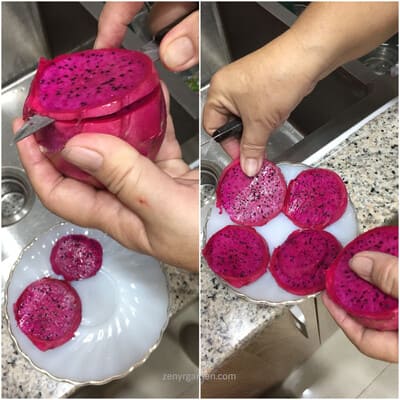 If you want to dehydrate the dragon fruit, it's easier to cut them into thin slices. This makes it dry up more quickly. You'll have a wonderful healthy snack preserved for later.
I sun-dried it for 3-4 days. And here we have some yum-yum snack: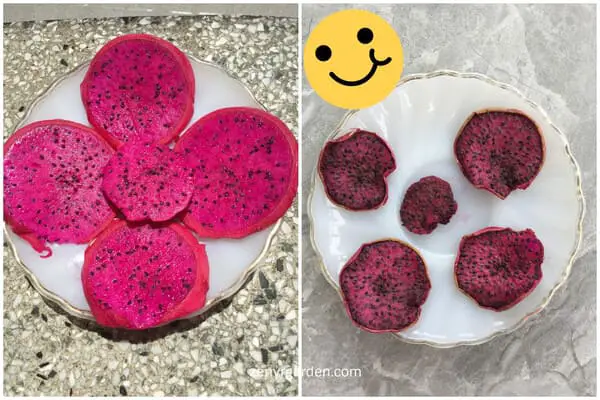 Share or pin this post!