Black soldier fly's slow pupation may due to the temperature being too hot or too cold, the foods, and sometimes human interference.
Temperature
When temperatures drop below 65F (18C) for quite a while, the metabolism system of the BSF larvae will slow down. This happens a lot during the winter months. As they eat less, they'll grow slower. Consequently, it takes longer for the larvae to pupate. Sometimes, it can take up to 5-6 months for the larvae to turn into flies as the cold months go by.
On the other extreme, too hot a pupation area may also cause the larvae to slow down pupation. When 15-days-old larvae turn a bit dark brown or charcoal, they will move themselves out of the feeding area to find a cool, dry place for metamorphism. They usually bury themselves under the ground to get some good shade.
Some people mix in sawdust, sand or coco peat to create a good dry environment. It helps them reach pupation just in time. Oat hulls & vermiculite are not very good medium because it's hard to separate them out from the pupae by flotation.
You'll be able to tell this by seeing the darkened larvae stop wiggling. For example, if tomorrow morning they're ready to turn into the hardened cocoon or chrysalis, they'll automatically crawl up from the sand or sawdust late tonight. When we see them again the next morning, they'll all be laying there non-moving. This is a good sign of I'm-ready-to-turn-into-flies. About 7 more days, they'll transform into BSF flies. You can see part of the transformation here: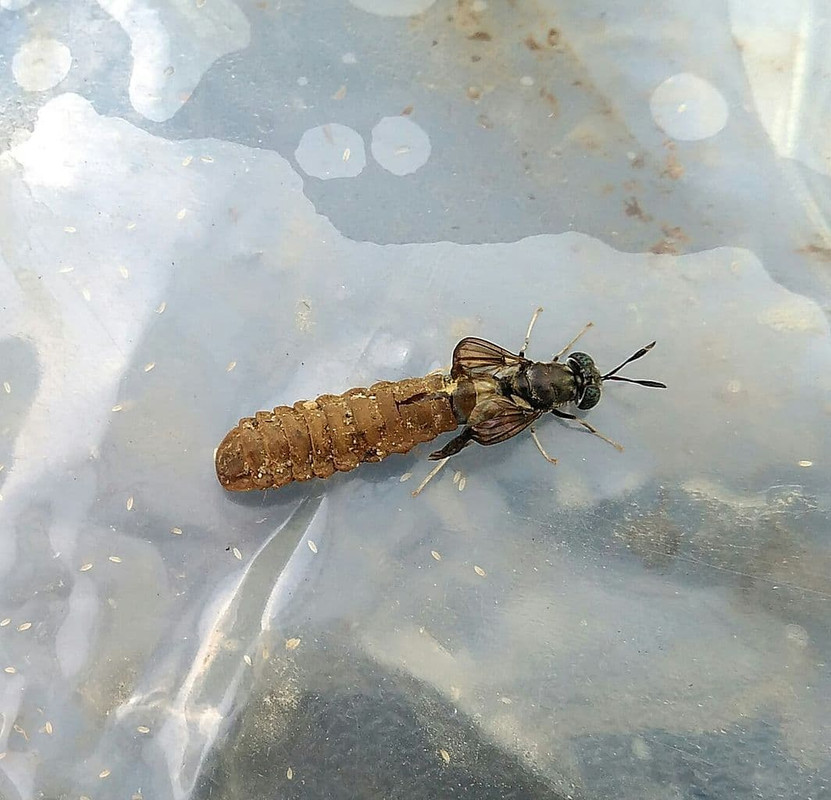 During the time when the pupae have crawled up from the sand, they still like it a bit cooler. Some good shade at this point can also help. In general, a good temperature range for BSF larvae (when they are still cream in color) is 25-32C (77-89F). They'll grow & pupate fast within this temp range.
Food
Foods that take a longer time to consume may delay the BSF pupation process. For example, if we feed them with fish, it may take longer for them to finish the foods than veggies. When there's still food, the flies may stay there for longer to feed on some more. People find that cooked fish tends to get chewed up faster than raw fish. Although it's not entirely necessary, we may shred the foods to make it easier & faster for them to digest.
Touching
Too much touching may be part of the reason for slow pupation. Some growers disturb or touch the larvae a bit too much or too often. It's not really clear how this may affect the growth rate. According to some raisers, just letting them lay there & do their thing will most likely help the process.
For example, when the darkened wiggling pre-pupae are about to turn into motionless pupae, if we bring them up above the ground or shed some light over the box, it may disrupt some of the things that's going on inside. They may need to start over or do some fixings here and there.
Share or pin this post!